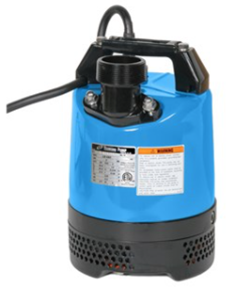 2" Manual Electric Submersible Pump Slimline Design
LB-480 Slimline design pump allows to fit into 8" pipes. Powerful pumps built with durable materials in an easy handling design. Top discharge provides maximum motor cooling efficiency allowing continuous duty operation at low water levels and extended dry-run capability.
Urethane, Semi Vortex Impeller and Wear Plates for maximum durability and maintaining pump performance.
Dual Inside Mechanical Seal With SiC faces provides longer operational life.
Oil Lifter provides lubrication of the seal faces. (Patented)
V-Ring Seal design protects mechanical seal from abrasive particles. (Optional Accessories)
TS-301 Float Switch for automatic operation.
 Technical Specs:
Motor Output (HP): 2/3
Phase: Single
Discharge Bore (in.): 2
Voltage/Amp: 110/6.1
Cable Length (ft.): 32
Dimension (Dia x H, in.): 7-11/16 x 11-1/4
Continuous Running Water Level (in.): 2
Pump Weight (lbs.): 28