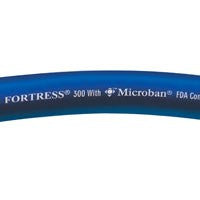 Continental Blue Fortress - Washdown Hose
***Cost is per foot***
Application: The highest quality construction for hot water up to 200˚F (93˚C) cleanup service in food processing plants, dairies, packing houses, bottling plants, breweries, canneries and creameries. Its super abrasion and oil resistant cover provides maximum protection against the adverse effects of oil and animal fats. The cover of our Blue Fortress® 300 hose incorporates Microban® antimicrobial built-in product protection. The white tube is comprised of FDA-compliant materials. 
Tube: White FDA-compliant nitrile synthetic rubber. 
Stock Hose: Amazon Hose stocks 1/2" and 3/4" ID Blue Carbryn™ synthetic rubber, RMA Class A (High Oil Resistance) hose. Contact Amazon Hose for additional sizes and availability. 
Reinforcement: Spiral synthetic yarn. 
Temperature Range: -20˚F to 200˚F (-29˚C to 93˚C).  
Working Pressure: 300 PSI through 3/4" ID. 
Coupling: Contact Amazon Hose for proper fitting recommendation and coupling procedure. 
*Minimum orders may apply. 
Contact Amazon Hose for pricing and availability on additional sizes.