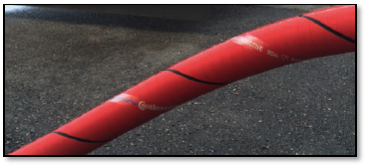 Continental Purple Snake - Brewery Hose
***Cost is per foot***
Application: A high quality hose that is ideal for breweries, winepresses, bottlers and many other installations in the brewing, beverage and spirits industry. Suitable for pure alcohol up to 98%. 
Tube: White, EPDM, non-porous and high-performing special lining, absolutely neutral to taste and odor. FDA compliant, and conforms to 3-A Sanitary Standard 18-03. Meets the recommendation XXI of BfR.
Cover: Red EPDM, fabric patterned special cover, resistant to ozone, weather, UV and abrasion.
Reinforcement: Synthetic fibers.
Temperature Range: -22°F up to +203°F (-30°C up to +95°C), can be steamed up to 266°F (+130°C) max. 30 min.
Working Pressure: 232 PSI through 4" ID. up to 16 bar.
Stock Sizes: 1-1/2" and 2". Call Amazon Hose for additional sizes and availability.
Couplings: Contact Amazon Hose for a complete line of fitting options.