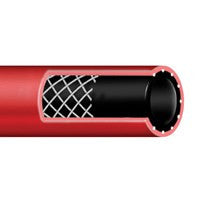 Continental Frontier - Washdown Hose
***Cost is per foot***
Application: An economical air and water hose, Frontier can be used for a wide range of wash down applications. 
Tube: EPDM synthetic rubber, RMA Class C (Limited Oil Resistance). 
Stock Hose: Amazon Hose stocks red and black EPDM Frontier hose in 200 PSI. Contact Amazon Hose for availability on 250 and 300 PSI hose, as well in additional colors. 
Reinforcement: Spiral synthetic yarn. 
Temperature Range: -40°F to 190°F (-40°C to 88°C). 
Working Pressure: 200 PSI through 1" ID. 
Coupling: Contact Amazon Hose for proper fitting recommendation and coupling procedure.