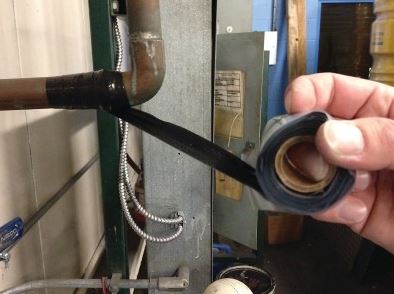 Rescue Tape© Standard Size, 1" x 12' Rolls, Black
Got a leaking hose?
Wrap it up tight with silicone tape!
Just stretch, wrap & get rescued™ 

SEALS LEAKS FAST!
• 950 PSI tensile strength 
• Resists 500°F
• Insulates 8,000 volts
• Resists fuels, oil, acids, solvents, salt water, road salt, UV rays 

Most versatile tape on the market, even better than duct tape. Repair leaking hoses and insulated wires, or use it in place of heat shrink tubing.

This is a self-fusing silicone repair product for emergencies and all-purpose repairs. By wrapping it around and onto itself, Rescue Tape© will quickly and easily create a permanent, airtight, watertight seal in just minutes or even seconds. You can repair leaks on hoses, pipes and air lines, or use it on electrical wiring and as shrink wrap.
Features:
Size: 1" x 12'
Color: Black
Quantity: 1