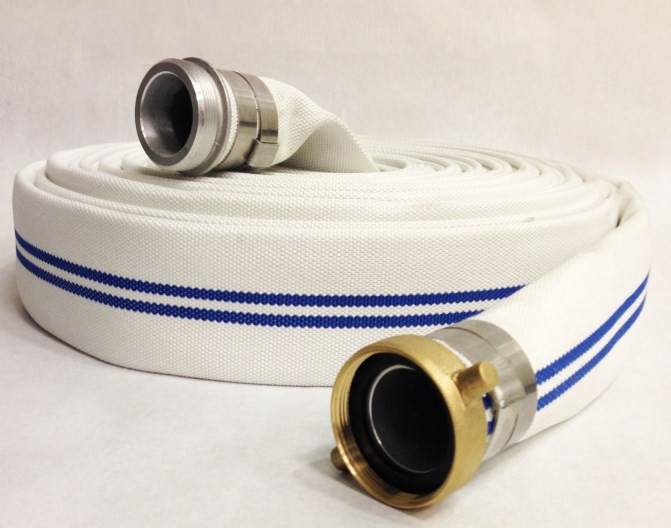 Single Jacket Mill Discharge Hose Assemblies with Female X Male Pipe Thread and Couplings
This assembly offers premium quality, scraped spot safe, substantial obligation single coat mill hose, made per NFPA 1961 guidelines. With a potential use life of five years, these single divider mill hoses are designed for heavy use, and are available in a mixture of sizes.

Quality: The mill discharge hose assembly supplied under this part no. is built with prevalent, quality materials. NFPA 1961 benchmarks are an industry standard, keeping in mind the end goal to guarantee its quality and toughness.
Hose Life: Hose outfitted under these particulars will have a potential safe life of at the very least five years; notwithstanding abuse that would render it unfit for use. Upon conveyance, this hose will be free from imperfections in workmanship and materials. 
Evidence Test: 300 PSI

Service Test: 150 PSI

Materials: The coats are woven equally and are free of bunches, knots, or unattractive disfigurations that could risk the honesty of the hose. The twist yarn should comprise of staple polyester yarn. The utilization of fiber or caught yarn is explicitly illegal because of the absence of inborn scraped spot resistance. The filler yarns are developed of high quality, low extension, fiber polyester to diminish weight and build adaptability.

The elastic covering is a solitary employ expelled container of manufactured EPDM aggravated to oppose ozone. The completed structure should is free of pits or different blemishes and has a smooth completion. No recovered elastic should be utilized. Plastic tubes that give up solidness of the hose life for the purpose of weight are not acceptable. Backing: The support should be of satisfactory thickness to make a smooth conduit yet not more prominent than .020. The mill hose developed under this particular should be made completely sponsored. Rigidity & Extreme Prolongation: Should meet the gauges of Supporters Research centers, Inc. TM and every single other properties of UL-19 for elastic lined hoses.
Includes male and female threaded couplings. 
Working Pressure:
1-1/2" X 50 FT. is 75 PSI *

2" X 50 FT. is 75 PSI *
* Hose ends reduce the rating to 75 PSI.
Need a larger diameter or length hose? Request a quote.